Buy irrigation system in Berlin and Brandenburg
Do you love flowers, green lawns and travel?
Then how can you combine the care of your plants with a coveted trip to the sea?
The problem is solved quite simply: you just need to entrust the watering of your plants to an automatic system that will provide them with water.
For those who are used to making quick decisions, automatic irrigation in Berlin and Brandenburg can be purchased in two clicks:
Click on "Contact Us" and our experts will choose the best equipment for you, based on the needs of your property.
Buy automatic watering system and forget about hoses
Thanks to the smart controls, you can make the automatic settings yourself and the system will turn on at the optimal time for irrigation, usually before sunrise.
You sleep, the irrigation works. Powerful systems do the job in 30-40 minutes. Therefore, the paths and lawns are already dried so that they are comfortable to walk on when the family wakes up in the morning. The system waters where it is needed, spares the plants, is controlled remotely from a cell phone, takes care of the plants and can simulate the presence of the owner in his absence.
When they are not active, the sprinklers are hidden underground.
The assembly is designed so that no protruding elements are visible.
This means that your children can run around without worrying about getting caught in the equipment, as well as mowing the lawn with an irrigation system is possible without any problems.
We only work with proven manufacturers who have proven to be reliable partners and with whose products we have never had any problems:
Hunter
Rain Bird
Irritec
Unidelta
Ebara
K-RAIN
Types automatic irrigation
Fog systems spray tiny water particles that form a gentle mist. Used to cool lounges, pavilions and create special effects over bodies of water.
If you decide to purchase an automatic irrigation system for your property in Berlin and Brandenburg, please note that, depending on your needs, we can offer you systems with different operating principles.
Sprinkling. The simplest and most accessible method. Rotating and static sprinklers produce water jets of different shapes and lengths. The fine droplets water the plants evenly and humidify the air. Suitable for lawns and beds with ground covers, dense moss carpets.


Misting. It is used not only to humidify green plants, but also to freshen the air in the house, to create a special microclimate when growing exotic flowers, mushrooms and in greenhouses. The water is either converted into steam or dispersed into fine particles with the help of ultrasound.


Subsoil and root irrigation. Here the name speaks for itself. Root irrigation is carried out at the level of the root system, i.e. about 20-40 cm below the surface, and the water is applied directly to the root area. The system is installed underground and is therefore suitable only for plants that do not change their location and have sufficiently deep roots. For example, for trees, shrubs, vines.


Drip irrigation. Is a cost-effective way to deliver water directly to the plant via a drip tape or separate drip heads built into the hose. Can be connected to a public water supply. If a strong enough well is used, it is simply connected to the pump. If the flow from the well is not enough, a storage tank is installed. Its volume is calculated on the basis of daily water consumption. This option is suitable for flower and vegetable beds, as well as for spot irrigation of the garden.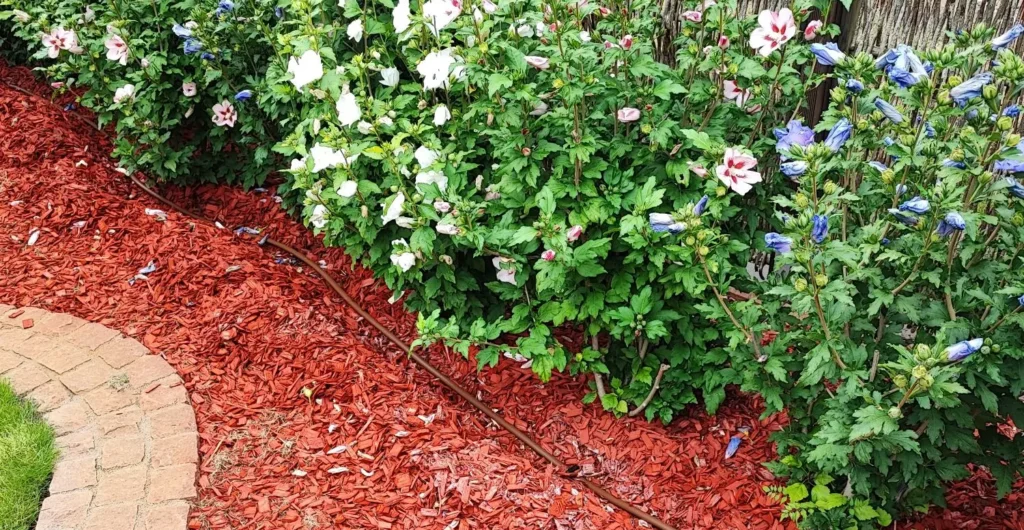 If you choose a drip irrigation system, also order mulch to hide the system.
Often, different types of plants are used for the same project to meet the requirements of all plants. For this purpose, the plot is usually divided into several zones with different maintenance.
What do you get when you hire us to install automatic irrigation?
For customers planning to purchase an irrigation system in the Berlin and Brandenburg region, we offer a comprehensive service package that provides the following benefits:
Expertly selected equipment within the limits of your budget
Scheme of the sprinkler system
Calculation of water consumption for sprinkler systems on your property
Installation, the quality of which is confirmed by a 5-year warranty
Adjustment of sensors and controllers
Additional savings when concluding a maintenance contract
The possibility of bringing in your own services
We are pleased to welcome you as our new customer.